"The casino is the best place for entertainment", says more than one casino lover. But what if you don't want to leave your house and you're dying to play a few casino games? Set up a casino in your own home. Or maybe you're interested, how to create an online casino with friends?
How do I choose who to invite to a casino party at home?

Guests should be selected if they enjoy playing cards. It is also important that they like gatherings and music.
What food should I choose for a casino party?

It is best to choose non-committal snacks rather than main meals that require a certain amount to be eaten at a certain time.
What games can I play at a casino party?

It is best to select all the games available in a real casino.
Do you need to decorate your house for a casino party?

Casino decorations are advisable to create the right mood. You can have a photo wall with a casino theme, or large cards.
Why build a casino at home?

You can relax more at home than in a real casino. Here you can meet your friends, chat, have fun and talk about how great the party was for a long time to come.
As the autumn weather starts to set in and darkness falls outside, it's time to get together for fun evenings with family and friends. Home casinos are the perfect place to do it, as casino parties at home offer a completely different experience to playing at a casino. And the experience is certainly as good as the one created in a casino house.
Casino house party
The key to creating a casino party and bringing all the experience of a real casino home to life is to start by choosing the right games.
These games are those that do not take long to complete and allow guests to chat, enjoy the food and just have fun. But these are not the only aspects of an evening at a casino at home that need to be considered.
Food
Food is one of these things. Casino party guests certainly want to play at casino parties, but it is even more true that the right snacks are also very important to them. To hit the sweet spot, choose snacks that they can choose for themselves at their leisure.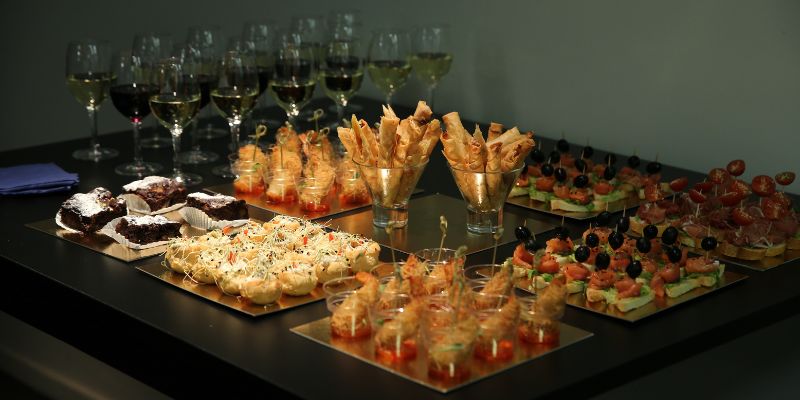 If you choose a strict regime, such as one with pre-set meal times for several meals, you will go hungry. And hard. You're likely to get some backlash after such a casino party. Avoid this by choosing single bite snacks.
Decorations
The very term "party" implies that it's more than just a get-together. Going to a party is also expected to be in a festive mood. And to make sure that it is there, it also needs to be taken care of in advance. Decorations will be most useful here. They will add charm and splendour to the casino night at home.
It's true that it can be difficult to choose which decorations might best suit your party theme, but it's always worth considering giant playing cards and dice. With these two accents, success is guaranteed, and after all, you'll need to take a photo for the "thick", so this type of decoration is one of the best ideas.
Think about welcoming your guests too. It's great to have a party vibe in your home from the first moment you step into your yard, so don't hesitate to put up a sign saying "Welcome to Fabulous Las Vegas". You can make your own welcome signs or simply order them online. There is a wide range of options.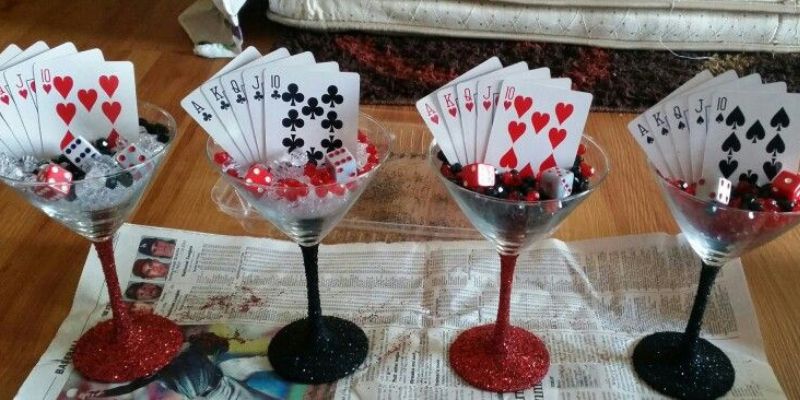 If you don't have the time to make your own casino party decorations, another option is to rent them. Not only can you rent decorations, but you can also rent lighting that will give your casino house the feel of a Las Vegas casino.
Music
Once you've decided on the decorations and refreshments, it's time to think about the music that heats up the atmosphere. Be careful, the theme of your party is Casino House, so the playlist cannot include music for other occasions.
Try to keep the music Las Vegas-style. Is it hard to imagine what kind of music it is? Go to the YouTube platform and there's plenty of information there.
Games
The host who organises a casino at home has a big responsibility on his shoulders not to disappoint his guests. We have already mentioned at the beginning that a home casino party requires a very carefully selected selection of games of chance.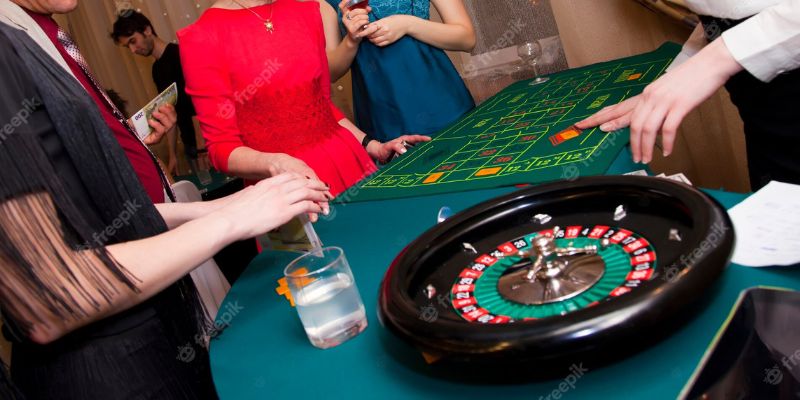 Consider how many people will be attending the party, as some games are better suited to larger groups of wives and others to smaller groups.
As you know, Blackjack is the most popular casino game. But there are other great casino games besides this game. Roulette, Craps, Mini Baccart and Poker should all be part of your casino party.
These games are all different types of casino games, so they all bring different sensations, which will keep party-goers from getting bored and stuck in one type of casino game.
For example, the casino game Craps is one of the most energetic, fast-paced and famous games in casinos, while Mini Baccart is one of the easiest casino games to play.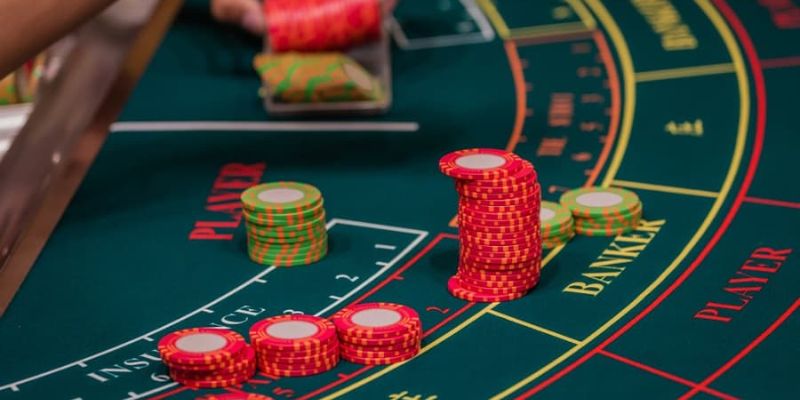 Guests
It seems like everything. But it's not over yet. Yes, all the things discussed before are crucial, but even more important are the right guests/players. After all, this is an invitational casino party at your home, so it's best to choose the right guests.
Imagine that your carefully planned casino party is attended by a person who doesn't like loud music, loud laughter or large groups of people.
Do you think this guest would enjoy spending time in such an environment? And would the other guests be comfortable and be able to enjoy themselves? You probably answered "no" to the last two questions. Then a different type of casino party at home is designed for such a guest.
Now imagine that all the players at your party are cheerful, lively personalities playing a variety of casino games. Do you like the sight of these people? We're sure you do.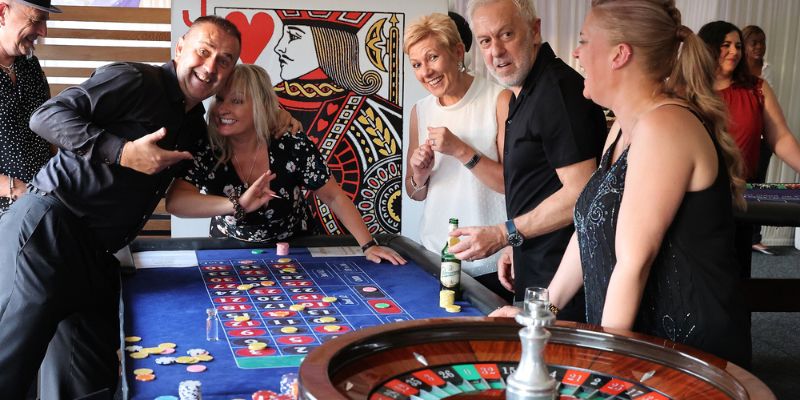 And really, everyone is different, everyone likes different things, so the guest list should be very well thought out to avoid any awkward moments and having to go home before the casino party even starts.
After all, the goal is to have a memorable casino party that you'll talk about again and again, so make sure that one small mistake doesn't turn your goal upside down.
You're ready to create a casino at home with your friends
There you have it, a plan for a crazy casino night in your own home. Of course, these are not the only tips to follow, but they are certainly the key aspects that should not be ignored to ensure a crazy night at your casino at home.
Please note that only you know your friends and the guests you intend to invite to your VIP Casino Night best, so decorationsAdjust the music, snacks and even the games themselves to suit your friends' needs.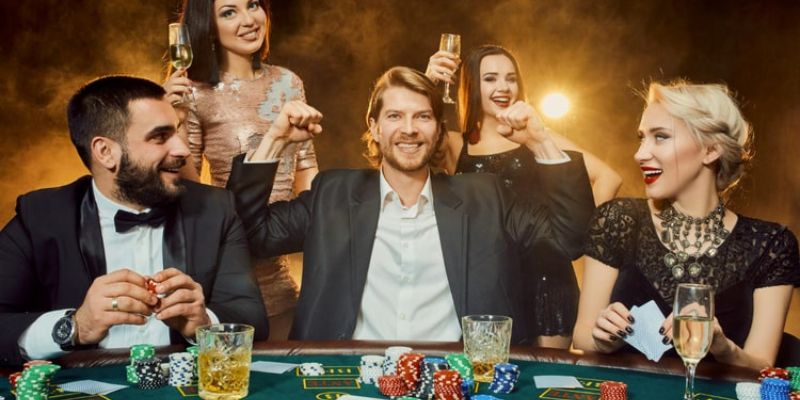 Hear yourself and hear them out so that all your guests don't have to grieve because they agreed to spend a casino night with you. Have a fun and unforgettable VIP casino party in your home.